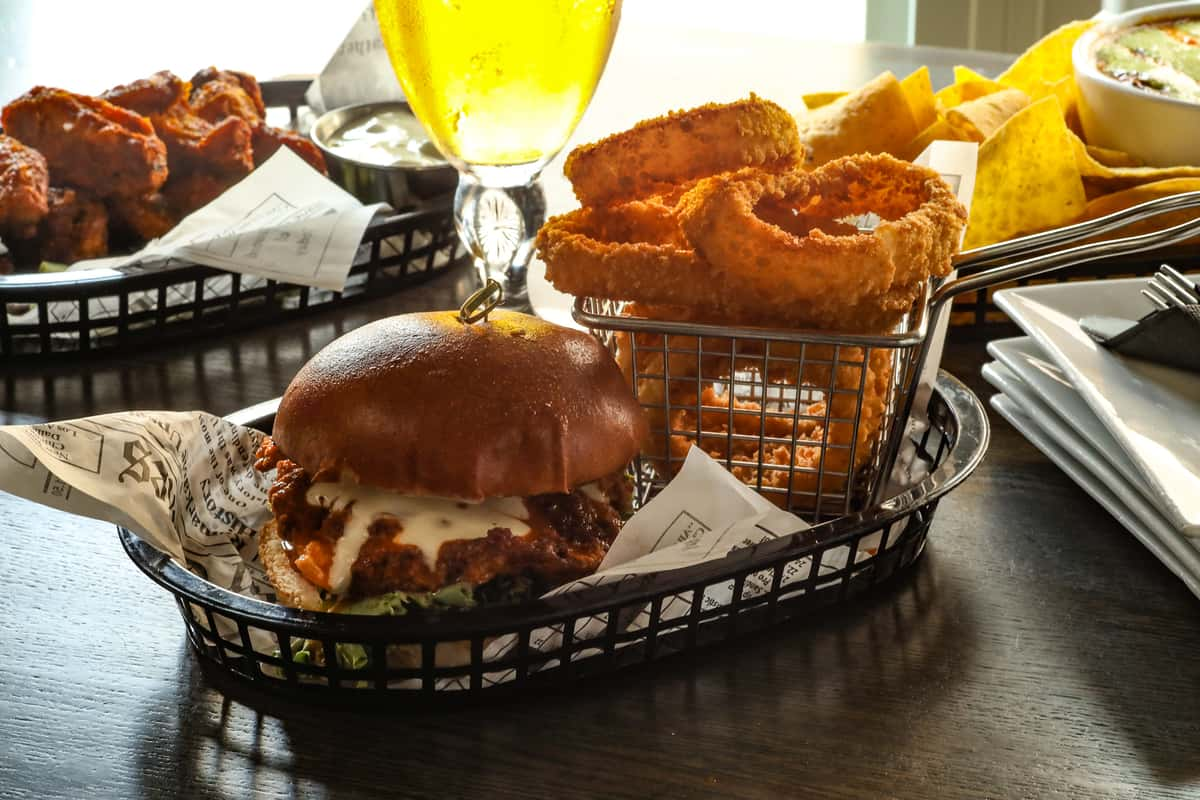 Patsy's
Roadhouse
High Quality, Fresh Ingredients
Bell and Evans Chicken
An important part of Bell & Evans' 100% rule is that they're fully committed to premium antibiotic and hormone free, no commodity.
Pat LaFrieda Meat
100% Antibiotic and Hormone Free, All Natural, Pasture Raised, Grass-Fed, Beef, Pork, Poultry, Veal, Lamb, and Buffalo selections.
Join Us For A Game
We have the NFL Sunday ticket and also offer football specials every Thursday, Sunday, and Monday.
Hopewell Junction
105 NY-376
Hopewell Junction, NY 12533

Hours
Monday:
12:00 pm - 9:00 pm
Wednesday - Thursday:
12:00 pm - 9:00 pm
Friday - Saturday:
12:00 pm - 10:00 pm
Sunday:
12:00 pm - 9:00 pm
Leave a Review
Leave a Review
"This is my favorite salad! The dressing over the crab cake and salad is very delicious and will not disappoint."
"My Husband and I are huge fans, we supported during the COVID-19 pandemic and got curbside and it's been amazing seeing all of the familiar faces again, you can't go wrong with a salad the southwestern is amazing, the chili, French onion soup, my favorite dish is no bun Bella and my husband loves the bacon bleu burger as well as cod delicious which is a wrap. Keep up the amazing job we love you Patsys Roadhouse!"
"So delicious! I've had it before, ordered it again. Love the seasoning, the spicy sauce! Have it without the bun or sides. Eat the sweet potato chips!!! Love them also."
"Anything Buffalo, I always try it…the sauce on this is sweet and spicy, perfect combination with ranch dressing!"
"Delicious and unique turkey burger... Super flavorful turkey patty, lots of goat cheese, fresh bun. Loved it! Also love the giant pavilion for outside seating!!"
"Salad was absolutely delicious! Plentiful and fresh, with a big crabcake right on top! Portion was perfect."
"This is my favorite salad! The dressing over the crab cake and salad is very delicious and will not disappoint."
"My Husband and I are huge fans, we supported during the COVID-19 pandemic and got curbside and it's been amazing seeing all of the familiar faces again, you can't go wrong with a salad the southwestern is amazing, the chili, French onion soup, my favorite dish is no bun Bella and my husband loves the bacon bleu burger as well as cod delicious which is a wrap. Keep up the amazing job we love you Patsys Roadhouse!"
"So delicious! I've had it before, ordered it again. Love the seasoning, the spicy sauce! Have it without the bun or sides. Eat the sweet potato chips!!! Love them also."
"Anything Buffalo, I always try it…the sauce on this is sweet and spicy, perfect combination with ranch dressing!"
"Delicious and unique turkey burger... Super flavorful turkey patty, lots of goat cheese, fresh bun. Loved it! Also love the giant pavilion for outside seating!!"
"Salad was absolutely delicious! Plentiful and fresh, with a big crabcake right on top! Portion was perfect."
"This is my favorite salad! The dressing over the crab cake and salad is very delicious and will not disappoint."